TestStream provides intelligent, automated testing and validation of clinical systems. TestStream ensures complete quality and safety by identifying build and maintenance issues, validating processes, finding the root of problems and so forth, making sure that the systems always work right—and patients get the best care.
Disease Surveillance & Outbreak Management

Sunquest WorldCare™ helps public health departments, laboratories, hospitals, and other public health practices to investigate communicable or chronic disease incidents efficiently, trace contacts and track transmission to identify vectors, and proactively prevent outbreaks. The system allows you to implement more effective strategies to promote and protect community health, and maintain compliance with public health mandates.
There are tens of thousands of deaths each year from flu, new measles cases occurring after it was all eradicated, and whooping cough still kills the young. These and many more diseases are diminished through the use of vaccines, public health prevention programs, and data intelligence. STC Health, is on the front line of this battle with its mission to eradicate preventable diseases and empower individuals through innovative technology and service solutions.
Simple, focused and customizable cloud hosted platform for complete program management
EHR and Hospital Management System

iPatientCare is a full suite of innovative healthcare products and value-added services that help physician offices, rural health clinics, and community and federally qualified health centers (CHC/FQHC) nationwide in improving the health of their patients, enhancing patient care through care management, coordination, analytics, and reducing costs of care delivery.
iPatientCare has been serving more than 70,000 users nationwide which includes numerous small, medium, and large practices, hospital & health systems, rural health clinics, and customers, such as, US Army and NASA Space Medicine.
iPatientCare has been selected as a preferred vendor, MU partner by Federal Government funded Regional Extension Centers.
Blockchain for Healthcare
The most advanced blockchain platform on the market. Period.
BurstiQ™ is an industry-leading blockchain enablement company, offering enterprise-level blockchain solutions for the health and healthcare industry. The company offers a HIPAA- and GDPR- compliant platform that seamlessly leverages blockchain, advanced security, Big Data capabilities, and machine intelligence to enable a global health data network through which healthcare businesses and individuals can access, control, monetize, and gain insights from their health data. The company provides platform-as-a-service (PaaS) solutions to healthcare institutions, insurers life sciences/pharma companies, and government agencies at the state, national, and international level.
BurstiQ has solved the fundamental challenge that prevented blockchain from being utilized in the healthcare space: how to support large, complex, and disparate data on-chain, while maintaining the security and privacy of that data. BurstChainTM provides end-to-end data rights management, indisputable chain of custody, granular ownership, and revocable consent, and advanced security.  BurstiQ makes it all possible.
BurstiQ builds immutable longitudinal profiles of people, places and things, and then connects profiles to each other with machine learning. This creates multi-dimensional blockchains, called LifegraphsTM, that reveals the interdependence between all the various factors that influence individual health and system efficiency. BurstiQ connects all the dots for you so that you can uncover deeper insights, faster.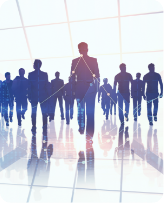 Turning Blocks Into Communities